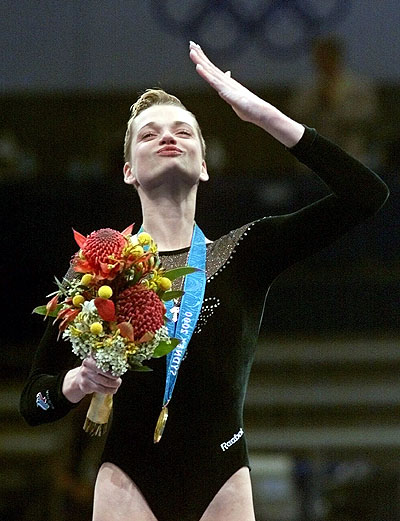 SYDNEY, Australia -- The sweet, bubbly Svetlana Khorkina finally reappeared, thanks to a new hairdo, a kindhearted gesture to a friend and a shiny, new gold medal.
Her blonde hair now cut in a short, sassy pageboy, the Russian star won her first gold of the Sydney Games on Sunday in the uneven bars finals. It came after she passed on a chance to redeem herself on the vault, the event that ruined her night during all-arounds.
"It's a memory I wanted to keep far away from me," Khorkina said. "Like maybe in the North Pole."
Knees still aching from her fall in the vault, Khorkina passed her spot to teammate Yelena Zamolodtchikova, who won a gold of her own with the unexpected opportunity.
Khorkina, meanwhile, isn't happy with just any old color.
She likes gold, as was apparent in the team finals when she wept her way through the floor routine, knowing her fall earlier on uneven bars had doomed the Russians to second place.
Two nights later, it got worse.
The Russian finished 11th in the all-around, victim of a vault set two inches (5 centimeters) too low that ruined her night and may have played a role in her startling lack of concentration later on the bars, where she fell again.
"It's quite possible to get killed," the 1.65-meter (5-foot-5) Khorkina said of the tainted vault. "Five centimeters can decide the future of the sportsperson."
To get over the trauma, she spent a day off in downtown Sydney, seeing the sights and treating herself to a relaxing day of pampering.
"You may have noticed my haircut and manicure," she said, beaming behind the microphone as she held up her silvery nails.
Her spirits were boosted even further when her younger sister, 16-year-old Julia, showed up just before the meet. Suddenly, an Olympic-style funk was replaced by happy times, a feeling she hopes to continue Monday when she goes for gold in the floor exercise.
"Tomorrow, I dance for Russia," she said.
On Sunday night, she twirled for her countrymen, finally putting together a flawless routine worthy of the defending Olympic, world and European bars champion. She scored a 9.862, then waited out the rest of the competition.
After China's Ling Jie went last, Khorkina paced nervously on the side. When Ling's second-place score was announced, Khorkina celebrated, hugging her coach, then running to the bar and hugging it, the tears welling, as she finally turned the tide in what had been a frustrating week.
"If I didn't get over the disappointment of the other night, I wouldn't have been fortunate tonight," Khorkina said. "And I wouldn't be standing here with a gold medal."
Neither would Zamolodtchikova, had it not been for Khorkina's decision to drop out of the vault final. Khorkina said she couldn't perform up to her potential with her knees still tender after landing hard on her first vault in all-arounds.
"I found out about an hour before," Zamolodtchikova said. "I'm very grateful for this. It's a dream come true. I'm very happy for that."
"I gave her the opportunity to win the gold because I had a feeling inside she'd win," Khorkina said. "I'm glad I gave her that opportunity to experience winning."