August/September 1998
Svetlana Khorkina: Courting Khorkina

Olympic, world, European champion is most provocative when provoked


By John Crumlish

photo by Susan Williams © IG '96
---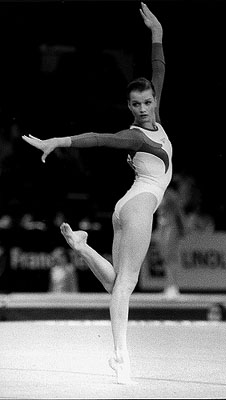 Exploting her alluring media persona while maintaining her genuine personality, Olympic, world and European champion Svetlana Khorkina adroitly alternates among her roles as bewitching celebrity, athletic superwoman and trendy teenager.

She takes calls on her cellular phone and inhales red caviar heaped on buttered bread. She assesses her status as a modern Russian icon, garbed in an oversized Tweety tie-dyed T-shirt that droops well below her waist.

"I would like to think of myself as a symbol of Russian sports," the 19-year-old Khorkina shrugs, cautiously regarding her homeland stardom. "But I don't like when people lift themselves too high."

That's why Khorkina is determined to remain grounded by her true nature, and by longtime coach Boris Pilkin, who tames her age-appropriate impetuousness with benevolent exasperation.

"He is a good person who understands me," Khorkina says of Pilkin, who also guided her to the 1996 Olympic gold medal on uneven bars. "We've been together so many years, and I'm grown up now, so I want to insert my opinion everywhere. For my age, this is normal, and he tolerates me. But when the argument goes too far, he knows the limit. Sometimes I scream at him, but then we can sit and calmly talk, and when it's my mistake, he will tell me."

The grandfatherly Pilkin's placid reassurance influences Khorkina as she lends experience to the morale of her younger teammates. But she feels threefold pressure to stifle her own insecurities for their mutual advantage.

"First, even if I feel bad, I have to look as though everything is OK because the other girls look to me as an example," Khorkina notes. "Second, my routines often suffer because I spend so much time offering advice and helping the others. So I must prepare myself 101 percent. Third, I feel a huge responsibility, which is why I am terrified when someone falls."

Khorkina's global popularity has magnified her every move and word, and intensified that duty. With her droll wit and candid responses to the most intimate questions, the savvy Khorkina says she respects the media as long as they respect her desire for treasured occasional solitude.

"I never give interviews before competitions, but even afterward, I'm very tired, I have a headache and can speak with only two or three journalists," she explains with more energy than weariness. "But overall, I have a good feeling about journalists, because they play a big role in my sports life."

Shrewdly attesting to her candor, Khorkina locks eyes with the inquisitor who deftly presses deeper into confidential territory:

Why did she withdraw from the vaulting final at Europeans? "I wanted (eventual champion Adrienn) Varga to win!" Khorkina says instantly, with mock sincerity.

With whom was she flirting during her final floor routine? "The people who were crying, 'Svyeta!'"

Is she a speed demon driving her new Renault? "I'm not a very good driver yet, but I practice on the autodrome when no other car is around."

Her biggest demon? "I'm afraid of getting old."

Secret desire? "I want to learn ballroom dancing, but I'm getting too old for that!"

Secret boyfriend, seen with her at a St. Petersburg restaurant during the competition?

For a moment, Khorkina appears remotely agitated, but her reply is unflustered. "We are just friends," she says. "We met in St. Petersburg; I was alone and so was he. It's not important what we were doing together. He himself doesn't want anyone to know his name."

Then there is the "Playboy" issue - November 1997 of the Russian edition, to be exact - in which Khorkina appears topless. Would she pose again? "Why not?" she asks. "It depends on the contract. If it satisfies me, I will."

Khorkina admits her appearance in the magazine elicited mixed reactions from her mother, Lyubov, and father, Vassily. "My mom said, 'Very beautiful,'" she recalls, "but my dad was shocked."

Still, she maintains an otherwise frictionless relationship with her father. "My dad is a good man who has golden hands - he can fix anything," Khorkina beams. "I'm Vassilyevna ('daughter of Vassily') and very proud of it." Likewise, she dotes on kid sister Yulia, 14, a member of the Russian junior team. "She's working to reach the Master of Sport level," Khorkina says of Yulia, "but I don't wish for her to continue. I want her to study."

Khorkina's charismatic persuasiveness has extended beyond family and team into the corporate realm, where she recently signed a high-profile endorsement contract with Longines. Singled out by the prestigious Swiss timepiece designer, she seized a moment at the conclusion of Europeans to share her good fortune - and goodwill. Khorkina scooted to the podium ("my idea, as always") to thank the rowdy Russian audience for their week-long enthusiasm. "Even with all the difficulties in our country, everyone supported us," Khorkina recalls with misty pride.

She even sees merit in some of the more superficial aspects of her fame, once more pulling others into her spotlight.

"I'm very proud because in gymnastics we have a lot of beautiful girls, women actually, such as (Hungary's) Adrienn Varga and (France's) Isabelle Severino," Khorkina says, sighing in admiration. "The more such young women compete, the more people will attend the competitions."

Khorkina is not apprehensive, however, about challengers to her throne, or challenges in her life beyond her current adulation.

"I'm living only for today; I never guess about the future," she says. "We'll get what God gives us."

That destiny will surely continue to draw new opportunities - and admirers - to the divinely magnetic Khorkina.
---