Romania may sue over Raducan case
Romania is considering suing "institutions and persons" over the moral damage caused to the country's performers banned at the Olympic Games in Sydney, sports minister Crin Antonescu said on Friday.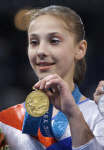 "We had contacts with Romanian and foreign lawyers over the possibility of asking for damages for our performers who consider they got unfair treatment at the Olympics," Antonescu said.
He said: "We plan to sue institutions and persons who, for instance, crushed (gymnast) Andreea Raducan morally. She was done great injustice when she was stripped of her gold medal for the all-round competition.
"Public opinion the world over is enough to judge what happened in Sydney."
It was not clear which court the Romanian Sports Ministry and performers would address.
Raducan was disqualified after ingesting a drug in an over-the-counter cold remedy administered by the Romanian team doctor before the Olympic all-round gymnastics event. Withdrawal of the all-round gold, despite an IOC acknowledgement the drug gave her no competitive advantage, set off a wave of sympathy across Romania and the world.
"Olympic officials apologised to Raducan and the Romanian Olympic Committee in Sydney, but that was half the compensation," Antonescu said.
"The other half is that all those responsible for what happened should answer for it."
Antonescu also criticised the expulsion of hammer world champion and world record holder Mihaela Melinte from the Olympic arena minutes before the start of qualification because of a positive drugs test.
"Throwing out a performer with great winning chances was an unbearable offence," Antonescu said.
rediff.com